Play

Play Next

Add to queue
Play

Play Next

Add to queue

951 plays

Play

Play Next

Add to queue

180 plays

Play

Play Next

Add to queue

163 plays

Play

Play Next

Add to queue

86 plays
Genre: Alternative / Jazz / Other

Location Vermont/Massachusetts/New York, US

Profile Views: 6263

Last Login: 10/9/2010

Member Since 10/26/2006

Website www.mergepoetrymusic.com

Record Label Self Released

Bio

....Merge is a collaboration of poetry and music in a unique setting. This is not poetry accompanied by music, or music with some poetry. but a true blending of two exquisite styles creating a new style. .. .. .. Poet Cassandra Cleghorn has been widely published but has found her home connecting her poetry with the music she loves. Colleague and Merge partner Erik Lawrence (saxophone and flute) has always found that these two mediums complemented one another, but never before like this. .. .. Allison Miller is a drummer of extraordinary versatility, imagination and ability. Bassist Rene Hart has played with countless artists in countless settings yet distinguishes himself as a strong and unique major voice on his instrument in this setting. .. .. Their first Cd was recently released and is available on CDBaby or tracks can be purchased at iTunes or Audio Lunchbox below. Visit www.mergepoetrymusic.com for samples and other goodies .. .... CDBABY LINK for MERGE: MERGE -->.. ........ ....iTunes.... ..audio lunchbox.. .... CHECK OUT OUR REVIEWS AT ..AllAboutJazz......CHRONOGRAM.... .. .. .. .. .. .... .. .. .. .. ..

Members

Cassandra Cleghorn (poetry/voice); Erik Lawrence (saxophones/flutes); Allison Miller (drums); Rene Hart (bass).

Influences

Robert Creeley, John Coltrane, John Donne, John Cage, Simonides, Amiri Baraka, Joanne Kyger, Lester Young, David Amram, Sappho, Gary Snyder, Kenneth Patchen, Charles Lloyd, William Carlos Williams, Eric Dolphy, Mirabai...

Sounds Like
No recent updates in this category.
Why not...
Bio:
Merge is a collaboration of poetry and music in a unique setting. This is not poetry accompanied by music, or music with some poetry. but a true blending of two exquisite styles creating a new style.


Poet Cassandra Cleghorn has been widely published but has found her home connecting her poetry with the music she loves. Colleague and Merge partner Erik Lawrence (saxophone and flute) has always found that these two mediums complemented one another, but never before like this.

Allison Miller is a drummer of extraordinary versatility, imagination and ability. Bassist Rene Hart has played with countless artists in countless settings yet distinguishes himself as a strong and unique major voice on his instrument in this setting.

Their first Cd was recently released and is available on CDBaby or tracks can be purchased at iTunes or Audio Lunchbox below. Visit www.mergepoetrymusic.com for samples and other goodies

.. CDBABY LINK for MERGE: MERGE -->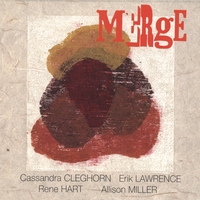 iTunes
audio lunchbox

CHECK OUT OUR REVIEWS AT AllAboutJazz
CHRONOGRAM


Member Since:
October 26, 2006
Members:
Cassandra Cleghorn (poetry/voice); Erik Lawrence (saxophones/flutes); Allison Miller (drums); Rene Hart (bass).
Influences:
Robert Creeley, John Coltrane, John Donne, John Cage, Simonides, Amiri Baraka, Joanne Kyger, Lester Young, David Amram, Sappho, Gary Snyder, Kenneth Patchen, Charles Lloyd, William Carlos Williams, Eric Dolphy, Mirabai...
Record Label:
Self Released