No recent updates in this category.
Why not...
Kate Beckinsale Online hasn't earned any badges yet... have you?
General

..
..
..
..

You can find more beautiful photos of Kate from Kate Beckinsale Online


More Livejournal icons from here


Music

Kate has done a music video with George Michael in 1999. The video was for the song Waltz Away Dreaming. You can upload the video from Kate Beckinsale Online..

Movies

..Kate's filmography..

Nothing But The Truth (2008)
Whiteout (2008)
Winged Creatures (2008)
Snow Angels (2008)
Vacancy (2007)
Click (2006)
Underworld 2 - Evolution (2005)
The Aviator (2004)
Van Helsing (2004)
Tiptoes (2003)
Underworld (2003)
Laurel Canyon (2002)
Serendipity (2001)
Pearl Harbor (2001)
The Golden Bowl (2000)
Brokedown Palace (1999)
Alice Through The Looking Glass (1998)
The Last Days Of Disco (1998)
Shooting Fish (1997)
Emma (1997)
Haunted (1995)
Marie-Louise Où La Permission (1995)
Cold Comfort Farm (1995)
Uncovered (1994)
Prince Of Jutland (1994)
Much Ado About Nothing (1993)
Rachel's Dream (1992)
One Against The Wind (1991)..

Television

Kate appears in few commercials.
GAP - "Denim Invasion" (2002)
Diet Coke (2004)..

Few examples of the videos you can find at Kate Beckinsale Online





Kate Beckinsale Online has

10026

friends.
About me:
..

..

About Kate Beckinsale Online

..

All you need to know about Kate you can find at

Kate Beckinsale Online

.

♥Kate Beckinsale Online is the largest Kate Beckinsale site and forum in the world.

♥It has the largest gallery of Kate images in the world, containing screencaps, photoshoot photos, magazine scans and much much more.

♥The site has a large collection of videos of Kate's interviews, trailers from her movies and her live appearances. We also have audio recordings of Kate.

♥A full bio, text of interviews, and frequent news updates are available.

♥The site has avatars, Live Journal icons, PSDs, and wallpapers.

♥The forum is the largest Kate forum in the world with over 3400 members, and it includes frequently updated news, candids of Kate, and fan art.

Join us here.

Click the banner to get to the site.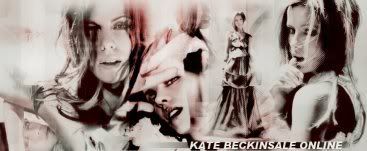 Clicking this banner will get you directly to the Kate Beckinsale Online Forum.

Latest updates on the site. For more, visit the
main site
.
..Beckinsale and Whaley Fill Vacancy..
Kate Beckinsale (Click, "Underworld" films) has stepped in to replace Sarah Jessica Parker in the horror thriller Vacancy. Parker dropped out because of personal reasons. Beckinsale and Luke Wilson will play a young married couple who become stranded at an isolated motel and find hidden video cameras in their room. They realize that unless they escape, they'll be the next victims of a snuff film. Frank Whaley (World Trade Center) will play the anti-hero. Nimród Antal (Kontroll) directs the Screen Gems release.
..Kate Beckinsale Biography..
Kate Beckinsale was born in London on July 26, 1973 to well known comedic actor Richard Beckinsale ("Porridge", "Rising Damp") and actress/BBC executive Judy Loe. Kate was an only child. In 1979 tragedy struck Kate's life as her father died of a heart attack at age 31, Kate was six at the time. The nation was shocked by the death of the popular young actor, but the outpouring of sympathy from the public didn't help young Kate. She has mentioned the difficulty in the wide knowledge among the public of her personal loss.
Kate's mother Judy remarried to director Roy Battersby, who had five children (one sister, four brothers) from a previous marriage. Kate at first was "horrified" by having four brothers in the house, but they soon became a family. Kate is still close to her step brothers, and credits them for giving her many wedgies growing up. Kate attended the private Godolphin and Latymer private schools for her grade and primary education where she received excellent grades despite a truancy problem at Latymer. While a teen Kate developed anorexia, which she says was brought on by stress and insecurity.
Beckinsale won first prizes in several young writing competitions. After completing school in London, she followed in the footsteps of her parents and began her acting career. Her first role was in "One Against the Wind", a television film about World War II that was first aired in 1991. She had already decided that she wanted to act, but to broaden her horizons she chose university over drama school. While in her first year at Oxford where she studied French and Russian literature, Kate received her big break in Kenneth Branagh's film adaptation of Shakespeare's "Much Ado About Nothing" (1993). "Much Ado About Nothing" was a major turning point in Kate's life as she met actor Michael Sheen on the set of the movie. Sheen and Kate were together for over nine years and have a daughter (Lily Mo Sheen) together. Kate worked in three other films while attending Oxford, beginning with a part in the medieval historical drama "Prince of Jutland" (1994), cast as Ethel. The film was shot during spring, 1993 on location in Denmark, and she performed her supporting part during New College's Easter break. Later in the summer of that year, she performed as the lead in the contemporary mystery drama "Uncovered" (1994). Before she went back to school, her third year at university was spent at Oxford's study-abroad program in Paris, France, immersing herself in the French language, Parisian culture.
A year away from the academic community and living on her own in the French capital caused her to re-evaluate the direction of her life. She faced a choice: continue with school, or concentrate on her flourishing acting career. After much thought, she chose the acting career. In the spring of 1994 Kate left Oxford, after finishing three years of study. Kate appeared in the BBC Television satire "Cold Comfort Farm" (1995) (TV) filmed in London and East Sussex during late summer 1994 and opened to spectacular reviews in the United States, grossing over US$5 million during its American cinema run. She followed with a co-starring role in the mystery "Haunted" in 1995.
Leading roles in the BBC remake of "Emma" (1996), the UK comedy "Shooting Fish" (1997) and the US dramas "Last Days of Disco" (1998), and "Brokedown Palace" (1999) followed. Kate earned generally positive reviews for her work but remained little known outside of the UK.
On January 31, 1999 Kate gave birth to Lily Mo Sheen. After recovering from the pregnancy Kate's filmed the movie "Golden Bowl" (2000), which was a box office disappointment. Kate's box office woes were about to end as she was cast in the 2001 film "Pearl Harbor", which was one of the highest grossing films of its year. She followed with the romantic comedy "Serendipity", released in the winter of 2001. 2002 saw the movie "Laurel Canyon" do nothing to help Kate's career with it's poor box office performance. After "Laurel Canyon" Kate took on the indie movie "Tiptoes", which was released on DVD in 2004.
Kate took a chance, and made a major change in both her career and personal life by accepting the role of Selene in the genre movie "Underworld", directed by Len Wiseman. "Underworld" told the story of clan battles between vampires and lycans and was a major change from Kate's usually staid roles. While filming "Underworld" (which also featured Kate's boyfriend Michael Sheen) Kate and Wiseman fell in love, though the two remained only friends while completing the movie. Following "Underworld" Kate took on another genre movie, the monster epic "Van Helsing", directed by Stephen ("Mummy", "Mummy Returns") Sommers. During the filming of "Van Helsing" Kate's personal life changed drastically when she split with her boyfriend of better than nine years, Michael Sheen. In June 2003, a few months after she had separated from Sheen, Beckinsale became engaged to Len Wiseman, and the two were wed on 9 May 2004 in Bel-Air, California. Meanwhile, "Van Helsing" opened to poor reviews, but still managed to bring in $120 million at the US box office. Kate followed "Van Helsing" with a portrayal of Ava Gardner in the 2004 movie "The Aviator". Kate co-starred with Leonardo DiCaprio and Cate Blanchett. 2004 also saw Kate featured in a TV campaign for Diet Coke, which ran into 2005.
In January 2006, Beckinsale reprised her role as Selene in the movie "Underworld: Evolution", a sequel to her 2003 film, "Underworld", again directed by her husband, Len Wiseman. The film opened at the #1 spot at the box office, grossing over $26 million in its first weekend of release. "Evolution" went on to gross $62 million in the US.
On January 24, 2006, Beckinsale was featured on the MTV series, "Punk'd" in which she was set up by her ex boyfriend Michael Sheen (the two remain friends and live close to each other). Kate is starring in the upcoming comedy "Click" (June 23, 2006), as well as in the independent drama "Snow Angels", release TBA. Kate currently resides in Santa Monica California with her daughter Lily and husband Len Wiseman, she also owns a home in the greater London area. Kate's plans for the future are uncertain at the moment, she has mentioned doing a play in London and perhaps taking up writing again. She turns 33 this July 23, 2006.
..Written by Brian of kbeckinsale.net - please do not copy! Also all the pictures and all other info of Kate or the site is from Kate Beckinsale Online...
Who I'd like to meet:
Clicking any of these buttons will take you to the Kate Beckinsale Online site. Support the site with these buttons, put it in your profile and link back to the KB Online or this MySpace profile!

.. .. .. .. .. ..
Latest News
# 08 Nov 2006 - News - Kate Beckinsale nominated for People's Choice Award
Take a look at all the newly announced nominees below, then go here to cast your vote. The awards will be handed out on January 9th of next year, so you've got time. Everyone can vote once a day, so be sure to bookmark the site and take a minute to vote for Kate each day!

FAVORITE FEMALE ACTION STAR

Kate Beckinsale
Halle Berry
Uma Thurman
Status:

Married

Hometown:

London

Orientation:

Straight

Zodiac Sign:

Leo

Occupation:

Actress